Sunita Staneslow
Trained classically, but with a passion for traditional music, Sunita has become one of the leading Celtic harpists of today. She has been teaching and arranging harp music for over twenty-five years and her numerous books of arrangements have become standards for teachers, students, and performers.
Originally from Minnesota and now a resident of Israel, Sunita's life is filled with music, travel and adventure. She is a featured performer and presenter at the major folk harp festivals in the USA and Canada, and also travels to Europe and South Africa.
Sunita has a masters degree from the Manhattan School of Music, is a certified clinical musician and works as a therapeutic harpist in two Israeli hospitals. She also maintains a busy schedule of performing, teaching, recording, and producing new books of arrangements.
Gal Shahar
Sunita and Gal Shahar have been working together as the Tzalool Duo since 2007. They have performed at many festivals in Israel, and also in Scotland and Canada.
Gal began playing violin at the age of eight, studying with the late Viola Hacohen in the town of Kiryat Tivon, Israel. He went on to participate in the Matan Arts and Culture Project for Youth, and the Jerusalem Music Centers prestigious program for elite young string musicians in Mishkanot Shaananim, often performing with chamber music quartets and orchestras throughout Israel.
From 1996-1999 Gal played multicultural music with the ensemble Esev Bar, with whom he recorded two albums. In 1999, along with his partner and wife Michal, Gal established Evergreen, which specializes in Celtic and original music. With Sunita in 2006 he founded the duo, Tzalool Fiddle and Harp, which has given numerous performances in Israel and abroad and recorded an album.
Abe Doron
Abe Doron was born in Mexico in 1970. He went on to study drumming and percussion throughout the world, in places as far-flung as England, Colombia, Brazil, Ireland, Spain, Mexico and the United States.
He performed more than more than 1,200 performances with the "Riverdance" orchestra, plus many musicals, including West Side Story,A Chorus Line, Blood Brothers, Oliver, Annie, My Fair Lady, Beauty and the Beast, Joseph and the Technicolor Dream Coat and "Riverdance" on Broadway.
Abe is the founder and manager of the Peimot Drumming & Percussion Center in Jerusalem. An active member of "Evergreen," "The Latin Quarter Band" and "Celtan," Abe also plays with the Irish rock band "The Willin' Fools" on their international tours, and with the "Berlin Soul Choir." He also has a longstanding relationship with the Hillel Theater Workshop, and has played in each of their productions since 2001. A member of the teaching staff of the "New Music Academy of Musrara" and "The David Yalin College,"
Sameer Makhoul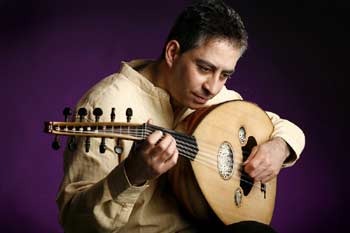 Sameer Makhoul was born in the village of Peki'in in northern Israel and as a child he began to learn the oud and violin. He later enrolled at the Jerusalem Academy of Music, where he studied under the renowned Israeli oud player Taiseer Elias.
He appeared, both as a soloist and member of the choir, with the Andalusian Muwashahat Orchestra (Tarshiha) and several other ensembles. He has taught oud, violin and Arab music theory at the School of Ethnic Music at Bar-Ilan University and at the Center for Oriental Music in Jerusalem, and has also directed the Arab-Jewish orchestra at the Joret al-Enab music centre in the Hinom Valley in Jerusalem.